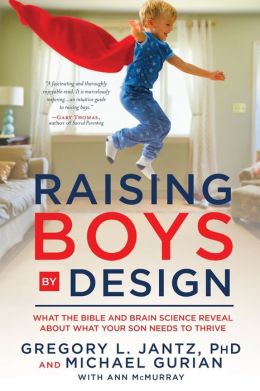 Paperback: 240 pages
Publisher: WaterBrook Press (September 17, 2013)
Language: English
ISBN-10: 0307731685
ISBN-13: 978-0307731685
::Description::
A book about how to help your son become the man God created him to be. Find out what is really going on inside your son's brain and build a HERO who values Honor, Enterprise, Responsibility, and Originality. In this book you will learn how to strengthen your sons character, and overall well being. Find out what your son needs from you and develop healthy thoughts and emotions that fit with his brain chemistry. Questions at the end of each chapter will give you personal insights into your son, and the book overall a deeper understanding of raising and understanding your son.
::My Thoughts::
As a mother to two young boys I am always interested in parenting books, especially when focused on boys obviously.
This book was very interesting to me because it explains how boys develop, think, and differ from girls. Boys think differently, develop different, and while both girls and boys may go through some of the same struggles in life those struggles are approached differently. This book explains in depth how to talk to your son about self-discipline, technology, sexuality, education, emotions, and how to be a HERO:
H

onor: adhering to truth, values and principles beyond self


E

nterprise: working at important things whether they seem small or large


R

esponsibility: carrying important things and people throughout life


O

riginality: being a dreamer, a thinker, an explorer in the world
While I did feel there weren't enough personal stories from the authors to relate to I still took a lot away from this book. There are a lot of things I can tell will come in handy later on, and even stuff that I can apply to my sons at their ages now 2 & 5.
It never hurts to absorb all you can as a parent when it comes to parenting. I love how this book addresses various topics in depth with questions at the end of the chapters for parents to ask themselves about their son. One of the main problems I see that parents face when their children get older is their children tend to stray. I hope and pray that does not happen with my sons. I think a lot of it has to do with lack of communication, nurturing, and understanding. Even if you are the best parent in the world teen years are very hard to come by. We all went through them, and as good as some of my times were I don't think I would go back. So it's important for parents to always stay involved and to know how their children are feeling. Because boys and girls while equal are not the same at all. They are different in their own God given rights not just in the way they look, but their behaviors, emotions, actions, thoughts, etc.
I love how the book talks about what a boy needs to learn from both his mother and father, and how to create a Biblical journey from your son.
This book is a mix of both scientific and biblical examples and advice. I enjoyed it even though it did feel a little dry at times. I can see myself re-reading this book many times over the years, however, because in these times we are in it is very important to nurture our children and set out a good path for them.
I would recommend this book for a parent with a son of any age.
Disclaimer: I received a complimentary copy of this book from Waterbrook Multnomah in exchange for my unbiased review. All opinions expressed are solely my own.