So as you all know me and hubby have been doing research into buying our own home. While we aren't ready just yet it doesn't hurt to look around and go ahead to see what's out there for the price. We don't care to have a bit of work ahead of us when buying a house. It's to be expected as you will pay quite the price to have everything your looking for and for it to be move in ready. So while we save we research, and we look. It's exciting to see houses, what they are selling for, what they have sold for, how they are renovated, etc.
One thing that is kind of scary though is it would be so hard to purchase a home and then have something suddenly go wrong with it. So we are definitely going to be getting a home warranty when we purchase. That way if something major or even minor goes wrong we aren't looking at a huge financial setback. It's always a good idea for a homeowner to protect themselves as much as possible. Because once you take that buying plunge it's yours good and bad.
Years ago we started out buying a starter home. Being young and excited for the venture we entered into a contract sale where we would rent for the first two years and if we decided upon buying after that all the money paid would be deducted from total cost of the house. It was a pretty sweet deal but as our family grew and the house did not we started having issues. Our AC unit went out, our refrigerator started having issues, and our stove was also having issues. Thankfully it was covered under the seller's home warranty and it was all fixed. Appliances are a major financial setback when you aren't expecting to replace them. Nothing lasts forever after all.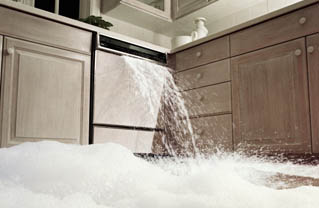 We decided against buying the house anyway even though we loved it, it was just too small with no room for adding on.
But it was an eye opener for sure. So this time when we take the deep plunge to purchase a home we are going to do it right and have our own home warranty. There are so many companies out there that offer great contracts. One of them is
Choice Home Warranty
and they have a really helpful
Facebook page
too.
As I know a lot of you out there are also about to take the homeowners plunge here's a few facts about having a home warranty you may find very valuable:
Home warranties insure against repair and replacement costs for appliances and other components of a home that quit working. They can be purchased for any home, no matter what its age.
A warranty helps assure the buyer that he won't have to buy new appliances or other covered items if they fail a month after closing. Warranties are often purchased at closing, but can be acquired any time.
The cost of a home-warranty policy varies. A basic policy is similar among the major providers, even though the items covered sometimes differ. Evaluate coverage by jotting down covered items in a column on the left side of a blank sheet of paper. To the right, make a separate column for each policy, and check off the items that are covered by each provider's basic policy. If you must purchase coverage for some systems separately, jot down the price.
Here's some articles you may also find helpful:
Home Warranty: Why get one now?
http://www.cnn.com/2008/LIVING/homestyle/12/30/toh.home.warranty/
How to Determine if You Need a Home Warranty
http://www.wikihow.com/Determine-if-You-Need-to-Buy-a-Home-Warranty
Disclaimer: I was compensated to write this article, however, all opinions expressed are solely my own.