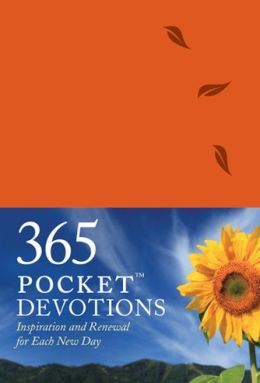 Imitation Leather: 320 pages
Publisher: Tyndale Momentum (September 20, 2013)
Language: English
ISBN-10: 141438789X
ISBN-13: 978-1414387895
::Description::
Learn to walk more closely with God each passing day!
365 Pocket Devotions
is a convenient, easy-to-carry, quick-access book containing daily reflections on topics like trusting God, making wise choices, and loving others. Each day begins with an inspirational, thought-provoking reading and ends with a promise from Scripture. A new edition in the popular 365 Pocket series that has touched so many lives,
365 Pocket Devotions
is created specifically for those who want daily devotional time with God. (Adapted from the perennial favorites
The One Year At His Feet Devotional
and
The One Year Walk with God Devotional
.)
::My Thoughts::
I really love this little book. For such a tiny book it holds so much inspiration and hope. Most devotionals are split up by day or month, but not this one. This handy devotional is just numbered by day: Day 1,2,3,4, etc. It is so easy to read a devotional per day. It doesn't even take five minutes, and after reading my devotionals it lifts my whole day up. There are personal questions that have you thinking throughout the day which I also like about this book.
It's also very soft to touch and light-weight. It also happens to fit easily into a purse, glove compartment, etc., making it impossible not to take with you.
And handily it has a built in bookmark ribbon so you don't have to worry about losing your place.
When you lead a busy hectic life and you find yourself needing God's word this is the book for you. It has been for me at least, and I've been raving about it to everyone who will hear. It gives me the faith and inspiration I need for my day. Each devotional is only about three paragraphs at most yet hold so much meaning in so short of a read. As someone with a busy life who is always on the go I need something I can take with me that is small but easy to read.
There is a topic index in the back if your needing some of God's loving word regarding a particular circumstance in your life. That is one of my favorite features about this devotional. This book in my opinion has it all. Easy to carry, quick to read, and finally for those of us with busy lives there's a book that will still nourish us with God's word daily. And last but not least this book leaves us with a promise that will have our heart filled all day long.
Disclaimer: I received a complimentary copy of this book from Tyndale House in exchange for my unbiased review. All opinions expressed are solely my own.