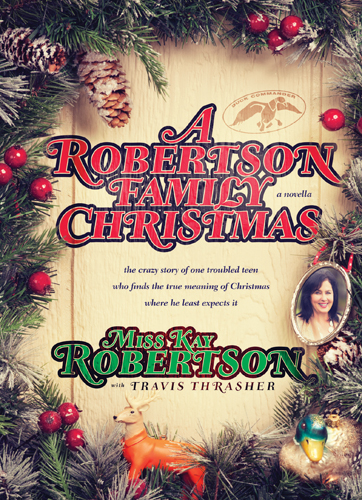 I am a huge fan of the Robertsons and Duck Dynasty. It isn't just because of their popularity, that actually has nothing to do with it. I love their faith, their love as a family together, and their laid back ways. There's just something about them all that is truly genuine, and you don't find that often at all. They aren't afraid to speak of their faith, to stand up for it, and no matter what they always unite as a family. Those are traits that should be present in every family, but just isn't the case in this day and age. So it's nice to find others out there like that.

So I was very excited to get the chance to read A Robertson Family Christmas. This is such a unique and original novella. One that I got swept up in instantly. This book is about a teenage boy named Hunter, who is extremely withdrawn and depressed with the way his life is going. His parents are divorced, his dad and brother spend all their time together, and his mom is constantly working leaving him often times alone. When he finds out he has won a contest to spend Christmas with the Robertsons, when he didn't even enter a contest, he was angry. He wanted nothing more than to spend Christmas with his dad and brother, but was too stubborn to say so. So off he goes on the plane and soon finds himself in the loving zany house of the Robertsons. He tries to hide with his headphones on but the family gives him little chance of that. As he starts to really get to know them he still feels left out in the world, but finds that he also feels as if something is missing from his life. Taking part in everything from hunting trips, to cooking with Miss Kay, Hunter seems to realize a few lessons about life, love, and even faith...

I love hearing about some of the Robertson's family traditions. And this book is definitely filled with tons of humor strung throughout to keep you laughing. I found myself laughing out loud just picturing some of the parts in the story they were so funny.

The love of family and faith is also very strong in this book. I love that there was such a presence of this, but what else would you expect when talking about the Robertsons? The story went together so very well together and blended fiction with non-fiction perfectly creating a wonderful story that ages teens and up can enjoy.

It's a short sweet book, and took me no time at all to read. At the same time it's also not a book I will soon forget! Miss Kay definitely has a knack for writing. Even though Hunter is a fictional character it would be easy to see this as a real teen going through the troubles he did. I felt often annoyed by Hunter's character. Even though he has been dealt a hard life in the story what with his parents divorce and loneliness he is very rude to people. But of course he's a teen so that's what is to be expected, and adds more reality to the story. The end of the story is so humbling and I wanted to read more very badly. I wish it continued! I can't say more about the ending without giving too much away, but I will definitely recommend you give this book a try! You won't be disappointed, especially if your a Robertson fan like my family is.
::From the back of the book::

Based on real Robertson family Christmas traditions, this novella gives readers a window into the heartwarming and sometimes-zany moments shared by America's favorite Duck Commanders.

Hunter Clarke wanted one thing for Christmas: to spend it with his dad and his brother. He misses being included in any guy trips since his parents divorced and he went to live with his mom. So he's less than happy when his mother tells him that he won a contest to spend Christmas in West Monroe, Louisiana, with a family named the Robertsons. For some reason, they're supposed to be a big deal. How did he win a contest he didn't enter? Besides, he's never heard of them and sure doesn't want to spend Christmas in a swamp with a bunch of strangers.

Korie Robertson is excited to open her heart and home to Hunter and show him what the Christmas season looks like for the Robertson family. And like it or not, Hunter experiences it firsthand. From duck-hunting disasters with the bearded guys, to learning to cook with Miss Kay, Hunter quickly discovers what it's like to live with this boisterous, yet loving family. Putting on his headphones and ignoring them is not an option. Before long, Hunter begins to let his guard down. But with Christmas and the end of his trip fast approaching, will it be too little, too late? Or will Hunter be open to the greatest gift of all?



 

::Product Details::

 

Hardcover: 320 pages
Publisher: Tyndale House Publishers, Inc. (October 1, 2014)
Language: English
ISBN-10: 1414398204
ISBN-13: 978-1414398204

 





::Also available in::



Kindle Nook Hardcover



 

Disclaimer: I received a complimentary copy of this book from Tyndale House Publishers in exchange for my unbiased review. All opinions expressed are solely my own.