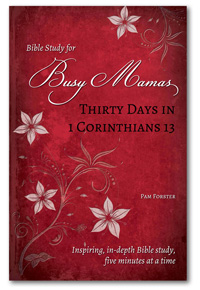 As a mom I can attest to how busy we can be. It's hard to find time to sit down, take a bath, etc. Let alone get in any bible study time. I love to get in bible study, to sit down and take in God's word. The problem is the time it takes to do so. I feel guilty on those days where I just don't find the time to do that. So for that reason I specifically like to look for short Bible Studies, especially ones with moms in focus.
This is one of those such Bible study books which I like. Each study takes about five minutes at a time, and in addition to that there is even a way to include your children with you! Not only are the bible studies quick and easy, but you won't believe how in depth they are! It truly astounded me.
This book helps you get to know one chapter (only 13 verses) of the Bible. You can do this over thirty days or so and you only have to devote five minutes a day, (or more if you want to). It's a fun and enlightening challenge.
Every lesson in this book not only directed for moms but, as I mentioned before, there are lessons included for your children too! This is especially handy if the only free time you get is while your children are awake, or if you try to squeeze in separate bible studies for you and your children. Why not do it all in one if you can? The children's lessons are of course optional.
The lessons are extremely fun and you will find yourself deeply involved. My kids loved doing the lessons with me and had such fun. They were actually really disappointed, as was I, when we finished the book! There are tons of ways to get creative with the lessons too which is always great because everyone's household is different of course.
All in all a great bible study for moms, children, dads, and just the whole family to be a part of. I highly recommend it. If you do give it a try come back and let me know what you thought of it! I know I am now eager to check out Pam Forster's other books as well. (You will find a list of these in this book).
::Find this book for::
Kindle
Print
::Product Details::
Series:
Bible Study for Busy Mamas
Paperback:
99 pages
Publisher:
Doorposts Publishing Co; 1ST edition (2014)
Language:
English
ISBN-10:
1891206575
ISBN-13:
978-1891206573
Disclaimer: I received a complimentary copy of this book for free, as a BookCrash memeber, in exchange for my unbiased review. All opinions expressed are solely my own.