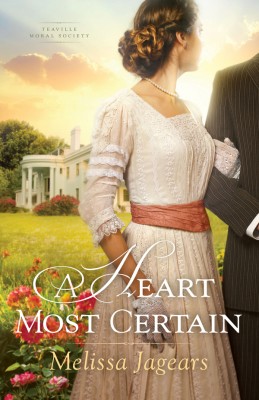 ::From the back of the book::
While Lydia King's reasons for joining the Teaville Moral Society might be suspect to some members, her heart is in the right place. Because of her father's debts and her mother's persistent illness, her best chance at a secure future and curing her mother is to impress the politician courting her. Her first task--to ask the town's wealthiest man to donate--seems simple enough . . . until he refuses.
Despite appearances, Nicholas Lowe wants to help others, but prefers to keep his charity private. When Lydia proves persistent, they agree to a bargain, but Nicholas still intends to do things his own way. Neither predicts what they'll learn about true charity or foresee the complications their actions will bring to the town, forcing Lydia to decide where her beliefs and heart truly align.
::My Thoughts::
Typically it takes me a few chapters into a book to become really immersed, but this book had me from start to finish! I was captivated! It is very well written, the characters are very well put together, and the writing style will sweep you away.
This isn't your typical written historical romance fiction book. It holds so much information, and really a great look at how some people are, good and bad. Thought provoking doesn't even begin to describe this book.
At first I was so annoyed by Lydia. I know her background isn't great, but her way of thinking and going about things got on my nerves. It didn't last throughout the whole story thankfully, and without giving too much away I will leave it at that.
It isn't just a great read, but rather a book that will make you think. Particularly about judging others without knowing them, about love, compassion, charity, beliefs, etc.
There are a lot of twists and turns in this book. It's like a roller coaster ride if I must be honest. Definitely not in a bad way because I can't sing enough praises for this book. I definitely recommend this if you like historical fiction novels, especially Christian ones. I do have to say it has some sensitive topics, and some characters that young readers shouldn't be introduced to. There are prostitutes in this book, but it does talk about how sometimes women back then had little option.
Despite prostitutes being in this book it is a clean romance novel so no worries there if you don't like to read more in depth on that topic.
This is book one in this series, and I cannot wait to read book two. There are some secondary characters that I would love to learn more about as well.
If you would like to check it out, just click
here
.
::Product Description::
Series:

Teaville Moral Society

Paperback:

400 pages

Publisher:

Bethany House Publishers (August 2, 2016)

Language:

English

ISBN-10:

0764217518

ISBN-13:

978-0764217517
Disclaimer: I received a complimentary copy of this book from Bethany House Publishers in exchange for my unbiased review. All opinions expressed are solely my own.