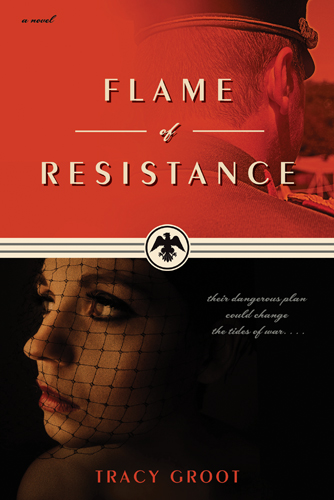 Paperback: 416 pages
Publisher: Tyndale House Publishers (May 18, 2012)
Language: English
ISBN-10: 1414359470
ISBN-13: 978-1414359472
::Taken from the back of the book::
Years of Nazi occupation have stolen much from Brigitte Durand. Family. Freedom. Hope for a future, especially for a woman with a past like hers. But that changes the day American fighter pilot Tom Jaeger is shot down over occupied France. Picked up by the Resistance, Tom becomes the linchpin in their plan to infiltrate a Germans-only brothel and get critical intel out through Brigitte, a prostitute rumored to be sympathetic to the Allied cause.
D-day looms and everyone knows that invasion is imminent. But so is treachery, and the life of one American pilot unexpectedly jeopardizes everything. He becomes more important than the mission to a man who cannot bear to lose another agent and to a woman who is more than just a prostitute, who finally realizes that her actions could change the course of history.
::My Thoughts::
I couldn't wait to read this book due to the description, but I have to admit some parts were a little slow for me. I just couldn't really get into it as deeply as I would have liked. I'm not going to give this book a bad review, however, because the book itself wasn't bad at all. I think just from my personal preferences it just didn't suit me as well as I would have expected due to lagging parts throughout the novel.
Brigitte's point of views were always interesting and often moving, but when it came to Tom's parts I was almost always lost. Mainly because I had to take time from the book to look up descriptions of planes they used back then during the war to get more of a clear picture of his thoughts. Mainly "he" refers to planes or pictures them, he even plans things out in ways to where you can't possibly understand unless you picture to air crafts mentioned. So that's why it took me way longer than usual to make my way through this book. I still enjoyed Tom's character, but Brigitte was by far my favorite. In a world where people starved, were tortured, and whom were left with very little options for survival she battled with questions of faith, and yet kept her strength and courage. She is an admirable character who has a wonderful heart, and you can't help but love her character. Tom was equally innocent and yet clueless which made him sort of charming in a way, but he too showed heart at various times through the story.
I like the history of the book, and I will say that besides the fact it is well written, it is also very well researched. I would recommend doing a little digging on the history of WWII before reading this novel as the novel is set in France during WWII, but all in all it's an enjoyable read.
In my personal opinion ages 20-up would get the most understanding out of it, but the Christian message is clear throughout the entire novel which is highly refreshing since we are dealing with the story of WWII, prostitutes, and the various unfortunate things that occurred during the occupation.
This book is available in Paperback and eBook by CLICKING HERE
I gave this book 4 stars, you can see my rating on
Goodreads
You can find the author,
Tracy Groot
on
Facebook
Disclaimer: I received a complimentary copy of the book for review purposes from Tyndale House. All opinions expressed are mine alone.