Make some sweet lemonade! LOL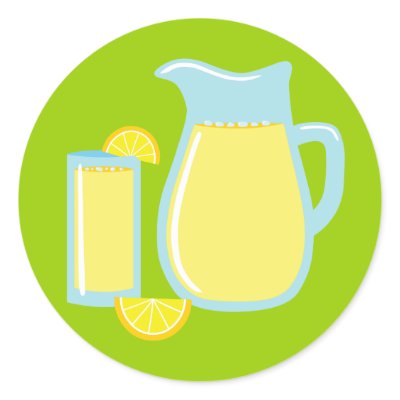 I know I missed Happy Homemaker yesterday. I am however looking forward to this upcoming weeks. We had some unexpected appointments come up, and things have just not been as planned lately.
Remember when I said we were going to look for a house because I didn't want an apartment?
Well, that was all great and dandy but then we seen the housing market in our area up close and personal and let's just say it stinks right now. More than stinks really, we only found two houses that we liked.
One house was a beautiful 2 story, 4 bedroom house, finished basement, and fenced in pool area! It was gorgeous and needed some updating and new carpet but was in our price range and sat on a cul-de-sac. We looked at the pictures online and loved it and were waiting on the real estate agent to call us back so we could take a tour in person. She called back...to say that an offer had been placed on the house and the owners had accepted. House no longer on the market...
The second house we also found online, but there were only pictures available of the outside of the home. It was a cute little 3 bedroom in our price range with a yard and playset in the back which came with the house. It had a half finished basement and description said: "Very little work needed, ready to move in" So we called and set up a tour of the house with the owner himself.
The house was a joke. I am really sorry to say that, but nobody was living in it. There were holes in the walls and towels were shoved in the holes, no trim on the floor where more towels were shoved in them, the house had no been cleaned, and the tub was rusted completely, pieces of wood flooring were actually missing in the living room, and it was just unlivable!
The real estate agent dropped us off a list of houses she had found (all out of our price range with less than 30% of the items on our wish list), and we faced facts...We are not going to find a house anytime soon on our budget.
So...it will be an apartment for the next year. BUT the good news is that we did find an apartment. It's not super big or anything, but it's charming and it feels homey. We will be downsizing a bit more but that also means less to clean so it's not a total downer. LOL. Plus it has a playground for the kids which is a HUGE plus for us. They are more than excited. Right now our apartment complex only has yard space, there is no playground equipment and there is always dog doo-doo to worry about since they don't exactly keep up with picking up out here sad to say. So I am satisfied, and everything will work out. God will take care of us, and even things didn't go the way we wanted them to things did still manage to work out. I'm just thankful we have somewhere to go and that we have a roof over our heads. I'm very grateful for our blessings.
Our town is so full right now that all the apartment complexes are either full or ridiculously priced, and all the available houses are not what we are looking for. All the rental houses are ridiculously priced for our town as well. Can you imagine paying $1,200 a month for a 3 bedroom house (small bedrooms at that) with little yard space that sits right across from a sorority house plus having to pay all your utilities and provide all your own appliances? Add to the fact that the only space for a dining room table in the house is in your living room since the kitchen is a walk-in? I surely can't. Some areas I can see it. Location, location, but not in my town where very little goes on and there's not much to do here besides movies, bowling, and a mall that has very few shops, and a Walmart that has a Subway in it. :)
So yesterday was filled with appointments and I just did not have the time to get around to Happy Homemaker Monday, but now you know what's been going on in my world. Happy Homemaker Monday will for sure be back this coming Monday, and I can't wait to be back with it. It's a weight off my shoulders to have everything settled since we're moving in just a month and a half. I'm a planner and now I can make my moving lists, plans, etc. LOL What have you been up to lately?
Sincerely,
~Tori~