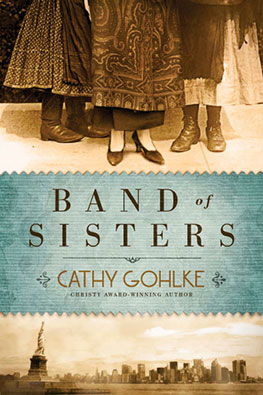 Paperback: 432 pages
Publisher: Tyndale House Publishers (Aug 17, 2012)
Language: English
ISBN-10: 1414353081
ISBN-13: 978- 1414353081
::From the back of the book::
New York City, 1910
Driven by a shameful past and a perilous future, Maureen O'Reilly and her younger sister flee Ireland in hope of claiming the life promised to their father over twenty years before. After surviving the rigors of Ellis Island, Maureen learns that their benefactor, Colonel Wakefield, has died. His family, refusing to own his Civil War debt, casts her out. Alone, impoverished, and in danger of deportation, Maureen connives to obtain employment in a prominent department store. But she soon discovers that the elegant facade hides a secret that threatens every vulnerable woman in the city.
Despite her family's disapproval, Olivia Wakefield determines to honor her father's debt but can't find Maureen. unexpected help comes from a local businessman, whom Olivia begins to see as more than an ally, even as she fears the secrets he's hiding. As women begin disappearing from the store, Olivia rallies influential ladies in her circle to help Maureen take a stand against injustice and fight for the lives of their growing band of sisters. But can either woman open her heart to divine leading or the love it might bring?
::My Thoughts::
This is one page turning book that I just could not put down! I was kept interested from start to finish, and my heart ached for Maureen. The author's writing style has you feeling as if you are inside the book watching everything unfold before your very eyes.
There are no small characters in this novel if you ask me. All the characters are heart-warming, or have some interesting back story that you can't help but to find yourself yearning for.
Katie Rose I often found too spoiled and shallow at times, but even she had her moments in the novel.
This is definitely not some weekend read as this book is very intense, and uplifting. It's heart-breaking, humorous, heart-warming, uplifting, and encouraging.
Olivia, whom is also one of the main characters, was very strong willed and her determination had me admiring her. Not caring what anyone else thought she stuck to her guns in following in Jesus's steps and trying to make the world a better place.
In case you don't already know for the summary on the back of this book, it is all about human trafficking. The historical setting really gives you a background on the history of prostitution and trafficking considering back then it was often times the only way of means for a young girl, particularly immigrants. Women were coerced, forced, and sometimes destitute and had no choice but to choose a life of prostitution. Even though we have come a long way in the years since then human trafficking is still an issue that we sometimes overlook. I for one didn't realize myself how serious an issue that human trafficking and sexual slavery is in our modern days. But now that light is shed on this issue I want to see it stopped. Below I've listed some links you can visit if you so wish to take a part in this very serious issue.
But above all else the reason why I loved this novel so is the power of God within it's pages.
Maureen was dealt such a hard life she assumed that God and faith wasn't for her. Even though it was heart breaking at times, Maureen had given up all hope that there was a great almighty looking out for her and helping her find the right path. Her stubbornness in the novel made me angry at times, but it turned out to be all on the road to finding her way.
This is definitely not a predictable read, nor is it drawn out. This book is well researched and truthfully honest. It doesn't sugar coat anything, and yet is not at all vulgar. It's one of those reads where even if your tired you say: "Just one more chapter and then I'm done". It's a very moving novel, and one you won't easily forget.
This book is definitely finding a place on my favorites shelf, and I have found a new favorite author as well.
To find out more information on human trafficking you can visit this page:
http://authorcathygohlke.com/books-by-cathy/band-of-sisters/
There is a whole slew of
photos relating to Band of Sisters
, information on how you can help fight against human trafficking, discussion guide, and you can even read an excerpt from the book.
To do your part in ending human trafficking and sex slavery educate yourself and find out what
you
can do at the following links:
http://www.endhumantrafficking.org/
http://www.notforsalecampaign.org/
http://www.stophumantrafficking.org/
You can read more about Cathy Gohlke, Band of Sisters, and more of her novels by clicking
HERE
.
And as an added little bonus for you readers Cathy Gohlke has answered some questions to share with us all:
How does your faith impact your writing?
My faith is part and parcel of all I do. While writing my first novel I learned that
I cannot divide the heart God knit inside me, cannot separate what I write from how I live
in response to Him.
That's when I began praying, not just that the Lord would lay on my heart a
"story," but that He would lay on my heart His "purpose," and a story to illuminate that
purpose. Later I understood that "purpose" is what is known in writing circles as a
"strong moral premise."
What motivated you to write Band of Sisters?
I've always been fascinated by the abolition of slavery and the civil rights
movement. But I was horrified to learn that there are more than twice as many men,
women and children enslaved today than at the height of the trans-Atlantic slave trade.
This book was born of a passion to end modern-day slavery, and most of all, to ask,
"What can I do to help in a need so desperate?"
Issues of sex slavery and human trafficking are foreign to most of us and
uncomfortable to discuss. How can Christians respond?
By speaking for those who have no voice. These are among the poor and needy
of our day, in many cases the orphans that Jesus commanded us to care for.
We must remember that the discomfort is ours, and the desperate need is theirs.
Being a Christian, a Christ follower, isn't easy in a fallen world. Doing what Jesus did
wasn't easy or comfortable. He confronted demons and hypocrites. He stood against
people who cared more about the monetary value of their livestock than they did about
freeing one human being from demonic possession.
Jesus ate with "publicans and sinners" to the ruin of His reputation. Just as He is
our example in loving one another and in protecting innocent young children, so He is
our example in setting captives free, in loosening cords that bind, in rescuing women and
children from prostitution, men from slavery.
In many countries of the world Christians pay with their lives for standing up for
their faith and/or for protecting others. I've heard it said that only in America do we
expect it to be easy to be a Christian. Talking about things that are uncomfortable to our
sensibilities don't seem so hard in comparison to the challenges our brothers and sisters
in Christ face the world over.
This book is available in
Paperback
Kindle
Nook
Disclaimer: I received a complimentary copy of the book for review purposes from Tyndale House as part of this blog tour. All opinions expressed are mine alone.