Hello, I hope everyone had a good weekend. This is our first "normal" week in quite some time. The kids are back in school, the roads are clear of snow, and the weather isn't quite so bitter. It actually feels warm outside compared to what we did have. Due to the crazy weather last week and that arctic storm that came through our schools were cancelled for a week straight! As a kid that would have been my dream come true. haha I loved snow days, and the peace of it. I still love them but as an adult no matter how beautiful you have to worry about the other complication that come with the beauty of it all. Especially when talking driving anywhere, power outages, etc. Phew. But we made it through without losing our power completely so we were blessed in that. While our power did go out a few times it wasn't off longer than a few minutes before it came back on thank goodness. We got to -45 in temps even! But back to Happy Homemaker Monday :)
I join in with Sandra over at
Diary of a Stay at Home Mom
so if you would like to join in head on over to her page and join with us all. :)
PHOTO CREDIT: Sandra @ Diary of a Stay at Home Mom
http://familycorner.blogspot.com
::As I look outside my window::
A little snow is on the ground, but most of it has melted away. The trees no longer bear the burden of having tons of snow piled on their leafless branches, but are bare once again. I do admit I think the trees are beautiful in winter with a little snow on the branches.
::Right now I am::
Sitting beside my youngest on the couch while he watches Umizoomi on Nick Jr. It's one of his favorite shows and he watches it every morning so it's a good time to get my blogging in.
::Thinking and Pondering::
I'm actually thinking ahead to Valentine's Day today. For the first time ever I bought my son's Valentine's to give out to his class early. haha. He wanted Power Rangers this year so now all I have left is to buy some candy to attatch and bag them up. That though can wait a little longer since it's still a month away. I just wanted to make sure I bought the Valentine's while they had them. Last year we had an awful time finding certain characters he wanted because we waited at the last minute and of course when stores run out they don't get more in stock.
Every year me, hubby, and the kiddos do something special for Valentine's Day. I know it's supposed to technically be for couples but that is very unrealistic when you have young kiddos. Finding a sitter that is reliable, making plans, it all becomes a hassle. So every year we do something special as a family. Usually I make a steak dinner or we go out to eat followed by a movie at home or the movie theater. I make a Valentine's Cake usually also. This year however we are thinking dinner, movie, and bowling. :)
Also thinking about how my little man will be turning three in just a month and a half. I'm not ready for it. The time goes so quickly it's unreal. It seems like in the blink of an eye. We for the most part already have plans in place for his special day aside from picking out the cake, getting gifts, and sending invitations but that will be done come February. I can't help it I have to plan ahead. I've had to much experience waiting until the last minute and that's when things get way too hectic and crazy.
::On my bedside table::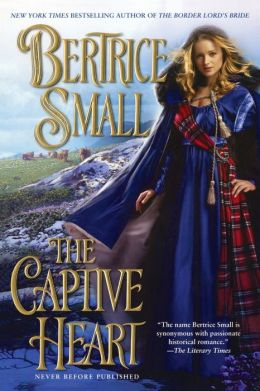 In 1461, Alix Givet, the daughter of Queen Margaret's physician, is forced into a loveless marriage with a Northumbrian baron's cruel son. When he unexpectedly dies, she flees over the border into Scotland, and into the mercy of a brooding laird. If she can warm his cold heart, it might provide the everlasting love of her dreams?
::On my TV tonight::
I recently found this television series that I find I LOVE immensely. It has me laughing, shrieking, and covering my eyes in horror at the same time. It's called
Panic Button
and it airs on truTV. A team of two people enter this top secret facility. They have no idea where they are at all and a voice talks to them the whole time. They have to face their worst fears through three terrifying levels and make it through and then put their relationship to the test.
So tonight I'll be catching up on the episodes on demand I haven't got to see yet.
Nothing at the moment besides listening to my little man next to me count along with Umizoomi. :)
::On the menu for the week::
Monday- Salisbury steaks, mashed potatoes w/gravy, broccoli
Tuesday- pigs in a blanket, macaroni and cheese, peas
Wednesday- Cheesy Beef Pasta, loaded baked potatoes, corn
Thursday- Spaghetti w/meat sauce and garlic bread
Friday- shopping day
Saturday- see above
Sunday- see above
I have been battling a cold the past few days and while I feel better I'm still feeling run down. So today I'm going to take it as easy as possible, and keep to only the daily chores. The rest will wait until later in the week.
So today I'll be only
Vacuuming floors
Sweeping kitchen and bathroom floors
Putting away laundry that I washed yesterday, folded, and shamelessly stuck back in the laundry baskets for the time being. At least it's all folded right? And I did iron them before folding and even hung up all the shirts so that has to count for something I hope...maybe??? LOL
::Plans for this week::
Karate with Lucas Tuesday and Thursday, grocery shopping and running errands on Friday, and going through toys eliminating ones no longer played with to make space. Of course my children never want to get rid of anything and a toy they haven't played with in a year is suddenly their favorite once you want to get rid of it.
So my plan of attack is to do it while Lucas is in school and Levi is napping. They will have no idea and won't even realize the toys are missing which is how it usually happens.
::What I am sewing, crocheting, knitting, or creating::
Sewing a new dog bed for our little Gizmo who isn't so little anymore really. He's almost bigger than his bed now so it's time for a new one. I seen some ideas on Pinterest I'm going to tinker around with. I can't believe he is a year old already.
::My simple pleasure::
Reading books with my little ones. I love seeing their smiles, reactions, delight in looking at pictures, hearing stories, guessing what will happen next, and finding out their favorite books and stories.
::Lesson learned the past week::
When times get stressful just take a few steps back, take a few deep breaths, and remind yourself of your blessings. It really does help matters.
::Looking around the house::
Breakfast dishes are all washed in the kitchen, some birds are hanging out on the patio, Levi is finishing up Umizoomi, and there's a few toys in the living room that needs putting away. Other than that everything is peaceful outside and clean inside.
::From the camera::
nothing this week
::Prayer list::
Friends and family members going through a rough time or getting back on track. Some have suffered some huge setbacks due to last week's winter storm so just praying for an easy transition back into some normalcy. Or normal as we know it anyway.
::Bible Verse/Devotional::
Proverbs 3:5-6
Trust in the LORD with all thine heart; and lean not unto thine own understanding. In all thy ways acknowledge him, and he shall direct thy paths.