::The weather in my part of the world::
It's been mild in the 80s and 90s. I'm loving the weather and there has actually been a breeze! Not to mention the nights are really mild in the 60s and 70s. It's been actually lovely weather, and I hope for these temps when it comes moving time. haha. But of course August (being the hottest month of the year) will probably be really hot.
::On my reading pile::
finishing up The Fiddler by Beverly Lewis (I haven't had much reading time but I'm so close to the end)
The Hangman's Daughter by
Oliver Pötzsch
The Dark Monk by
Oliver Pötzsch
I ordered 50 Shades of Grey by E.L. James to see what all the fuss is about so as soon as that comes in I'll be reading that.
::On my TV::
Bunheads 9pm on ABC Family
Beverly Hills Nannies on ABC Family
May try to catch some episodes of House Hunters on demand
::On the menu for this week's dinner::
This week is mainly for the kids. With Josh working 12 days in a row with no days off it will be quite a lot to juggle so I'm planning easy meals. Some meals he may have to grab out to eat so it may just be us and the kids eating together.
Monday- breakfast for dinner (scrambled eggs, bacon, biscuits, corned beef hash)
Tuesday- turkey manhattens (mashed potatoes, corn, turkey, and gravy over bread kind of a knife and fork meal)
Wednesday- cheeseburger hamburger helper, fried potatoes, broccoli
Thursday- Slow cooked pot roast with potatoes and carrots
Friday- slow cooked bbq porkchops, brown rice, mixed veggies
Saturday- chili cheese hot dogs, dorito chips
Sunday- chicken quesadillas
::Recipe I tried or want to try soon::
TRIED
BLT ROLLERS
We all love this quick and easy recipe. I usually serve it with some apple slices and it makes a great lunch. The kids adore it, and its SO tasty! LOL. I found it on kraft recipes.
::Looking around the home::
Fresh bouquet of flowers is sitting on the kitchen table in front of me. My boys picked them out for me especially from them for my birthday yesterday and they are beautiful.
I have a cold glass of cranberry cherry juice sitting beside me that is so yummy. It's new from Ocean Spray and it's soooo tasty! Along with that I have some buttered toast which is probably about soggy at this point. haha
Dishes are all done and the house is clean. Everyone is still asleep which explains that. haha. I'm sure once the boys get up it will be disaster mode, and I'll probably need to don my hard hat. :)
::What I've been up to lately::
Still in the packing process. It has taken so long because we have decided to downsize our stuff and so everything we come across we have to go through first and decide to keep or throw. But everything is coming along nicely on that front so far and we'll be done right on time without having to rush.
I am SO curious to find out what all the fuss is on the book
50 Shades of Grey by E. L. James
. I ordered it and I'm expecting it sometime next week. It's part of a trilogy, and I have been hearing about it everywhere. It's all everyone is talking about online, on the news, on the radio, at the library, etc. Our library has the electronic version of it, but it's currently unavailable. I've also heard that this trilogy has been banned from libraries in 3 states! I can't believe it. So of course I have to read it to find out what all the fuss is about. Have any of you read it? What are your thoughts on it whether you have or haven't read it?
Our upstairs neighbors have had people over EVERY night for the last 3 nights in a row. They have partied until around 6am and I'm running on very little sleep. I find it so disrespectful considering they know that we have children. Luckily none of their parties have kept the boys up this time, but it has certainly affected me and Josh. We just keep telling ourselves that we will soon be out of here and into our new apartment. The one bad thing about apartment life is you may not always get along with some of your neighbors. God knows we have sure tried, but they refuse to make any effort what-so-ever. I'm not saying they shouldn't be able to have friends over and enjoy themselves because they are young, but the music they play loudly (you can hear every word) and the fact that it's so loud it vibrates the pictures on our walls is a little ridiculous if you ask me. We have complained to the apartment manager and she says the same thing time and again: "I'll handle it, thank you for bringing it to my attention" and time and again nothing is ever done because they just do it again! Our new apartment complex doesn't tolerate that and it's actually a community with many other families which is refreshing. I made sure to have a long conversation with our new apartment manager before we signed a lease that I did NOT want to deal with what we are currently dealing with. I just can't tell you how many times my kids have woken up crying because of the loud music and parties. It's been horrible and it goes on EVERY weekend. I have had to call the police a few times because when it comes to my children I am like a mother bear in action. We try to talk to them in person but they don't respond well so unfortunately it's the only way we can deal with it. Right now we just keep telling ourselves that God has provided us with a nice new apartment and we'll be in there shortly. Only a matter of time now.
::On my to-do list::
Vacuum
Laundry
Packing
Catch up on some blog reading
::Tips & Tricks::
You know those old socks that are always in the laundry? They have holes, no mates, and you just wanna throw them away?
Well instead of throwing them away stick them in a bag or basket and use them as cleaning rags. They actually clean well and when your done with them you can either re-wash them as cleaning rags or throw them away. Gives them a little extra usage. :)
::My projects::
No projects at the moment. I have been focusing on reading and spending summer with the fam. I do plan on some great upcoming projects though. :)
::From the camera::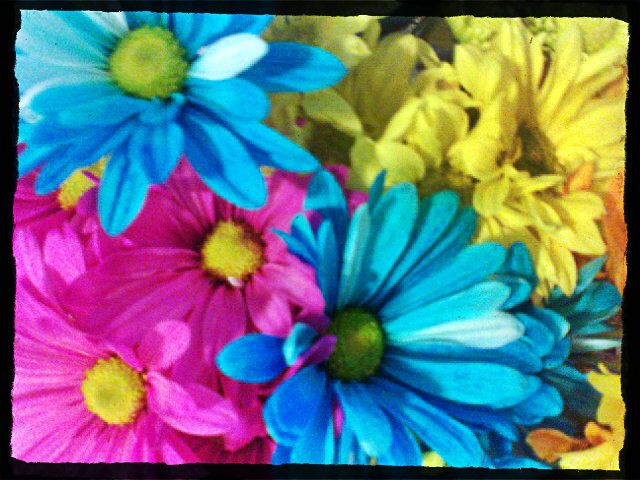 flowers the boys got me. Sorry it's a bit blurry and dark. Had to use my camera phone.
::Something fun to share::
This is a great summer-time treat for the kids. Look at how fun it is! This week when we go to the store I am buying some kiwi. I have everything else and I know my boys are just going to love it! Such a FUN treat!
::Bible Verse/Devotional::
Ephesians 4:26 NIV
"In your anger do not sin": Do not let the sun go down while you are still angry,