As you know I love reading historical romance novels. Such is the reason that this novel drew me in.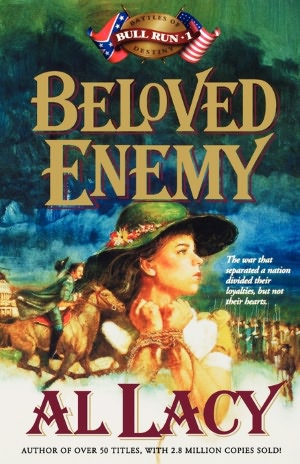 Paperback: 364 pages
Publisher: Multnomah Books
Language: English
ISBN-10: 1590529030
ISBN-13: 978-1590529034
::A bit about the novel::
One of the main characters, Jenny Jordan, takes a job with the federal government, and at the same time covers for her father's Confederate spy missions. Her father warns her never to get involved with a soldier, and that's just what happens. Jenny's father accepts a job offered by Abraham Lincoln, but is not honest in his motives. He feigns loyalty to the North while in reality his loyalties lay with the South. Jenny meets Union soldier Buck Brownell in her line of career and her life is forever transformed by love at first sight. Jenny's loyalties are with her father and her land, but she can't help but carry a forbidden love for Buck despite her father's warnings. Buck equally reciprocates the love feelings between the two and desperately wants Jenny to be his.
Determined to keep her forbidden love and still hold loyalty with her father in some way Jenny tries to please both parties. She a
grees to help her father carry a message, but gets caught by Union soldiers over enemy lines. Buck has orders to execute her, but tries to find a way to save his true love.
::My Thoughts::
It took me awhile to get swept up into the story. This is part 3 in Battles of Destiny series, so maybe it was because I didn't read the first 2. I felt that it dragged on a little longer than necessary. This novel has a good mix of battle and romance, but I think it could have shown a bit more detail to some of the characters. Still for a novel centered on the Civil War it was a good read. It isn't one of my favorite novels, but if you are curious you should definitely give it a read.
I really enjoyed Jenny's character and understood her dilemma as far as trying to please her father while trying to please herself and Buck. The endings for all characters were mixed, some good and some bad. I don't think I would want to change the endings though and felt that it was all as should be although some were quite surprising. I won't go into details on that so as not to spoil anything.
I have to admit I was hoping for this novel to be a little more meaty, not meaning that there should be sex scenes or anything, but I felt things could definitely be more heated between the love couple to make their love seem more realistic.
Still this is a well researched novel and despite some of the characters use of wording in conversations I didn't feel like it was set in any other time frame other than the Civil War.
I am glad I did give this book a chance though as now I won't be curious and although it isn't one of my favorites I did still enjoy it.
This book is available in::
Print
Kindle
Nook
I rated this book 3 stars on

Goodreads

&

Amazon
DISCLAIMER: I was provided this book for free through Waterbrook Multnomah publishers in exchange for my unbiased review. Opinions expressed are mine alone.